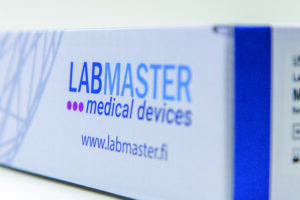 Labmaster is looking for new distributors for IVD and/or veterinary point-of-care diagnostics. We will provide all the necessary product and technical information and supporting material for you to make successful sales and build long-term customer relationships. We'll also provide training for you either onsite or online. We are looking for long-lasting, trustworthy cooperation for each market. Currently, we are especially targeting the Latin American market.
Read more about point-of-care testing and the Labmaster LUCIA™ product family:
Please express your interest by sending us email at info@labmaster.fi!
info(at)labmaster.fi
Tel. +358 22 760 555
Rauhalinnantie 31, 20780 KAARINA, Finland
Legal disclaimer
Products designed, developed and manufactured by Labmaster Ltd. meet their specifications when stored, used and transported according to the instructions for use and product inserts. Labmaster LUCIA™ is a trademark designed and owned by Labmaster Ltd.
Not all products are available in all regions. Check with your local representative for availability in specific markets.