Foal IgG test kits are ready to go!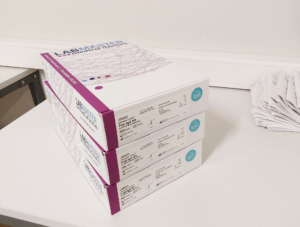 Foal IgG test kits are ready to go!
The Labmaster LUCIA™ Foal IgG test is used for monitoring the IgG levels of newborn foals. This point-of-care test can be performed on-site, at the home stable of the mare and baby. A newborn foal has no natural defence mechanisms against infection. Foals are entirely dependent on antibodies absorbed following ingestion of mare's colostrum.
Measuring the foal's IgG levels between 18 and 24 hours of life is recommended to ensure sufficient passive transfer has been achieved.
Point-of-care testing is preventative or diagnostic testing that is run and analyzed on-site, near the animal patient. This type of testing may provide results more quickly than send-out lab results, so you can get an answer or a diagnosis and decide next steps of care.
– Quantitative result in 6 minutes
– Based on whole blood sample
– Measuring range 100–1500 mg/dL
– Accurate and affordable method for IgG monitoring
Learn more about the Foal IgG test and order yours now!
info(at)labmaster.fi
Tel. +358 22 760 555
Rauhalinnantie 31, 20780 KAARINA, Finland
Legal disclaimer
Products designed, developed and manufactured by Labmaster Ltd. meet their specifications when stored, used and transported according to the instructions for use and product inserts. Labmaster LUCIA™ is a trademark designed and owned by Labmaster Ltd.
Not all products are available in all regions. Check with your local representative for availability in specific markets.