Point-of-Care Diagnostics
Labmaster develops point-of-care diagnostic tools based on the patented cathodic electrochemiluminescence (LM-CECL) technology. Point-of-care diagnostic tests allow for the detection of analytes at the point of care, reducing the need for time-assuming laboratory testing. The Labmaster tests are designed to be used by healthcare professionals with the Labmaster LUCIA™ Analyzer. The analyzer's intuitive user interface allows for the use of the instrument without extensive training. Results can be transferred to a PC or phone via Bluetooth connection.
Labmaster test kits require only a small whole blood sample such as a fingertip prick, and the analyzer returns the result in a matter of minutes. The test kits are readily deployable and include all the reagents needed for performing a test.
POINT-OF-CARE TEST KIT
TEST CASSETTE
Antibody or antigen coated on chip
Washing buffer
NFC CARD
Batch and analyte-specific parameters
SAMPLE PREPARATION TUBE
Analyte-specific tubes included in the kit
Principle and procedure of the Labmaster LUCIA™ test kits
Labmaster LUCIA™ tests are based on the formation of immunochemical complex between the antigen in the sample and the antibody coated in the test cassette. The whole blood sample is added to the LUCIA cassette and after the reaction, the unbound excess of the labeled antibodies is separated with automated washing step. The formed antibody-antigen complex is excited with electricity. Resulting electrochemiluminescence is measured. The on-board microprocessor calculates the presence of the analyte in the sample based on a pre-programmed calibration. The calculated result is displayed on the screen of the Labmaster LUCIA™ Analyzer.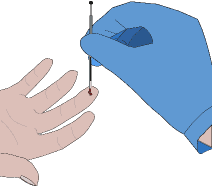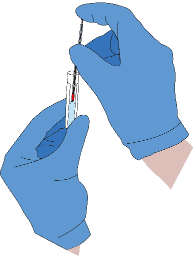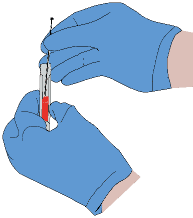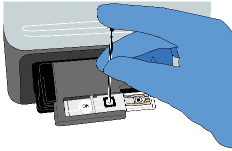 Transfer the sample to the cassette

Measurement result is displayed on the screen of the Labmaster LUCIA™ Analyzer
info(at)labmaster.fi
Tel. +358 22 760 555
Rauhalinnantie 31, 20780 KAARINA, Finland
Legal disclaimer
Products designed, developed and manufactured by Labmaster Ltd. meet their specifications when stored, used and transported according to the instructions for use and product inserts. Labmaster LUCIA™ is a trademark designed and owned by Labmaster Ltd.
Not all products are available in all regions. Check with your local representative for availability in specific markets.