New from Labmaster: Feline SAA test!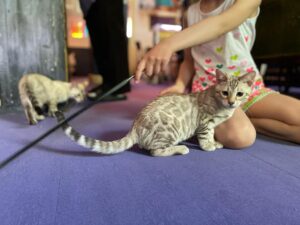 Labmaster's latest addition to the veterinary product family is Feline SAA, which measures Serum Amyloid A (SAA) in cat whole blood. SAA is a significant acute phase infection marker in cats. fSAA concentrations alter in response to a generalized inflammatory process (infections, immune-mediated illnesses, malignancy, and surgical intervention). fSAA can  increase up to 100-fold from baseline levels within the first 8 to 24 hours of inflammatory stimuli. fSAA is a helpful marker in tracking the progression of the condition and how well treatment is working, including early responses to antibiotic therapy.
Labmaster's veterinary tests are easy to perform using the small tabletop Labmaster LUCIA™ Vet Analyzer. The result is ready in 6 minutes.
More about the Labmaster Feline SAA test:
More information about Feline SAA:
 (ii) Tamamoto, T., Ohno, K., Ohmi, A., Goto-Koshino, Y., & Tsujimoto, H. (2008).
Verification of measurement of the feline serum amyloid A (SAA) concentration by human SAA turbidimetric immunoassay and its clinical application.
The Journal of veterinary medical science, 70(11), 1247–1252. https://doi.org/10.1292/jvms.70.1247.
info(at)labmaster.fi
Tel. +358 22 760 555
Rauhalinnantie 31, 20780 KAARINA, Finland
Legal disclaimer
Products designed, developed and manufactured by Labmaster Ltd. meet their specifications when stored, used and transported according to the instructions for use and product inserts. Labmaster LUCIA™ is a trademark designed and owned by Labmaster Ltd.
Not all products are available in all regions. Check with your local representative for availability in specific markets.