Join us at Medlab Middle East 2023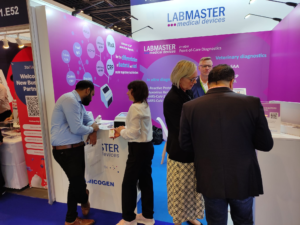 Join us at Medlab Middle East 2023, which is taking place live in Dubai. We are showcasing our point-of-care technology and products at booth Z1.E56.
Medlab is an exciting event with an audience of over 20,000 visitors representing more than 180 countries throughout the show's four days.
"This is a great opportunity for connecting with potential R&D partners and widening our distribution network", says CEO Tony Wahrloos.
"Labmaster's patented cathodic electrochemiluminescence technology has received a lot of interest for its accuracy, affordability and most of all, applicability for novel point-of-care innovations", adds CTO Juha Lappalainen.
info(at)labmaster.fi
Tel. +358 22 760 555
Rauhalinnantie 31, 20780 KAARINA, Finland
Legal disclaimer
Products designed, developed and manufactured by Labmaster Ltd. meet their specifications when stored, used and transported according to the instructions for use and product inserts. Labmaster LUCIA™ is a trademark designed and owned by Labmaster Ltd.
Not all products are available in all regions. Check with your local representative for availability in specific markets.