Labmaster obtains GMP certification of compliance from Korean Ministry of Food and Drug Safety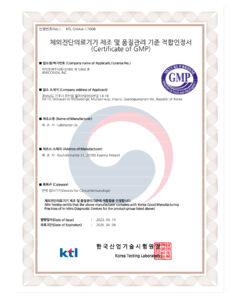 We are very happy to announce that Labmaster Ltd has obtained GMP (Good Manufacturing Practices) certification of compliance from the Korean Ministry of Food and Drug Safety. The certification is for in vitro diagnostic devices for clinical immunology and it is obtained through our local official import partner Amicogen.
We are very excited about this achievement. This is an important milestone for Labmaster, and we are now well positioned to begin marketing human and veterinary point-of-care diagnostics for the Korean market. We already have a productive partnership with Amicogen in place, which is a well-known life-science company in Korea. This brings us competitive advantages going forward.
info(at)labmaster.fi
Tel. +358 22 760 555
Rauhalinnantie 31, 20780 KAARINA, Finland
Legal disclaimer
Products designed, developed and manufactured by Labmaster Ltd. meet their specifications when stored, used and transported according to the instructions for use and product inserts. Labmaster LUCIA™ is a trademark designed and owned by Labmaster Ltd.
Not all products are available in all regions. Check with your local representative for availability in specific markets.