Labmaster at MedLab 2022 in Dubai
Despite all the difficulties caused by the coronavirus pandemic, we're happy to attend the Medlab Middle East, which is a great opportunity to meet other manufacturers as well as suppliers, distributors and producers of IVD medical devices.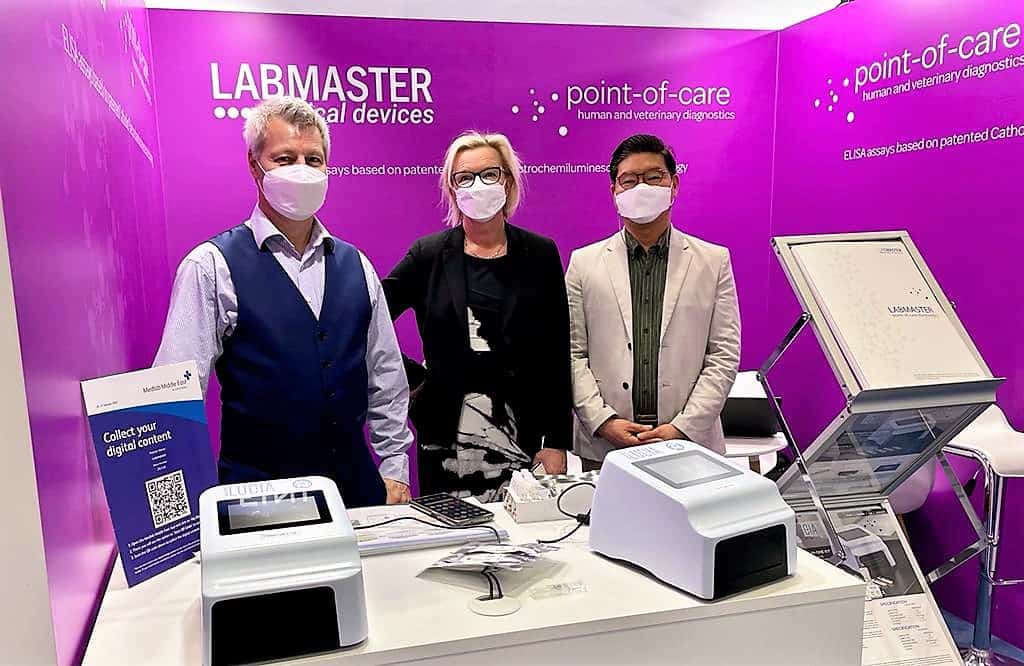 Showcasing the Labmaster LUCIA™ Analyzer
We have a great location in the exhibition hall and have received a lot of interest and interaction among our colleagues and other visitors.
Our aim is to introduce our key products related to the Labmaster LUCIA™ Analyzer and to seek potential business and R&D partners related to this versatile diagnostic platform. At Medlab we are focusing on our point-of-care test kits, MxA and CRP. When applied together, they provide an efficient method for the differentiation of viral and bacterial acute respiratory tract infections. The LUCIA Analyzer is frequently investigated by the passing visitors at our booth.
Personal encounters build the ground for business in the Middle East
Due to the pandemic, we perceive that whoever is now at Medlab is serious about future endeavors in the IVD market. For Labmaster, attendance at Medlab has brought new potential distribution partners and ideas for next R&D projects. Labmaster is preparing to set foot in the Middle East IVD market and Medlab is crucial in our effort to establish new partnerhips. All in all, our target has been met and we continue to enjoy the last day of the show!
info(at)labmaster.fi
Tel. +358 22 760 555
Rauhalinnantie 31, 20780 KAARINA, Finland
Legal disclaimer
Products designed, developed and manufactured by Labmaster Ltd. meet their specifications when stored, used and transported according to the instructions for use and product inserts. Labmaster LUCIA™ is a trademark designed and owned by Labmaster Ltd.
Not all products are available in all regions. Check with your local representative for availability in specific markets.